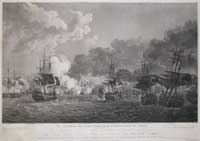 P. W. Tomkins after I. T. Serres
TO ADMIRAL SIR HYDE PARKER, Kt. COMMANDER IN CHIEF, Vice Admiral Lord Nelson and Rear Admiral Thomas Greaves, THE Captains, Officers, Seamen, Marines and Soldiers of the BRITISH FLEET, THIS PLATE representing THE ATTACK of the DANISH FLEET and BATTERIES off COPENHAGEN, the SECOND OF APRIL, 1801, Is dedicated with the greatest respect by their most Obedt. Hble. Servt. P. W. TOMKINS.
An aquatint and line engraving by Tomkins after the painting by Serres, commemorating the Battle of Copenhagen; published in London, three months after the battle, in July 1801.